Kerbs, Channels & Edging
For radii greater than 10m, straight units can be used.
External radius drop kerbs and channels and internal radius kerbs are also available.
All kerbs and channels are 914mm long, excluding flat top edging being 900mm long. Please note we are not replenishing our stock of kerbs and channels. Prices whilst in stock.
Kerbs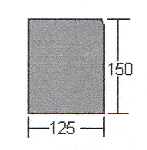 | | |
| --- | --- |
| Bullnosed Kerbs 125mm x 150mm | each |
| Half Battered Kerbs | each |
| Quadrants, 305mm x 255mm | each |
| External Radii Half Battered Kerbs (0.6 – 12) | each |
| External Radii Bullnosed Kerbs (must be ordered) | POA |
| Internal Radii Half Battered Kerbs (must be ordered) | POA |
| Internal Radii Bullnosed Kerbs (must be ordered) | POA |
Channels

| | |
| --- | --- |
| Channel 100mm | POA |
| Channels 255mm | each |
Edging
| | |
| --- | --- |
| Flat Top Edging 914mm x 150mm | each |
| Flat Top Edging 914mm x 200mm | each |
| Round Top Edging 914mm x 150mm | each |
| Round Top Edging 914mm x 200mm | each |
| Bullnosed Edging 914mm x 200mm | each |
| Bullnosed Edging 914mm x 150mm | each |
| Left Hand Drop Sloped Edging | each |
| Right Hand Drop Sloped Edging | each |